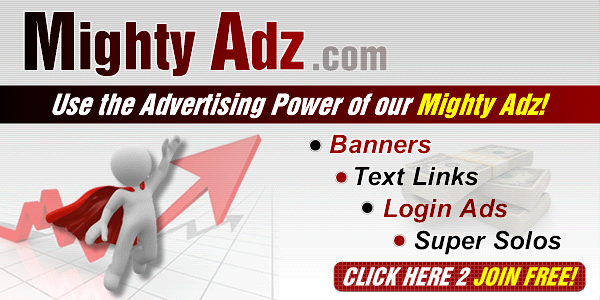 Key Features & Benefits of Membership at MightyAdz.com

1. Earn Free Advertising
Earn points for being an active member by viewing other members sites. Credits are earned by clicking on Text Ads, Html Ads, Banners, Traffic Links , Solo Email Ads and for Referring other members.

2. Downline Builder
Utilize Our Special Downline Builder with the Hottest Traffic Generating, List Building and Income Producing Programs Online! Simply Add your Affiliate Link for your referrals to signup too!

3. Link Cloaker Tool
Every Member has Access to our Built in Link Cloaking Tool that converts your messy affiliate links into clean click-friendly links. It also virally spreads your MightyAdz.com Affiliate Link to build your referrals!

4. Tracking Statistics
Link, Banner, Login and Email Ad tracking plus full statistics are available for all of your advertising campaigns within the members area.

5. Guaranteed Traffic
The 'MightyAdz' System Generates Virtually Guaranteed Visitors to your advertising links!
More Great Membership Features at
MightyAdz.com..

6. Email Advertising
Send solo ads via email to every member of our site! Very effective advertising as members earn points for visiting your site.

7. Affiliate Program Promotion
Add links to your affiliate programs that get viewed by your referred site members!

8. Emailing Referrals
Through MightyAdz.com you can Email your referred members once a week. If you Signup to each of the Recommend Traffic Builders you will be able to email your downlines everyday!

9. Advertising Points
Spend your earned points on any advertising that you like. You only get points deducted from your account when members view your website, or you can trade points for more advertising!

10. Receiving Emails
You will currently receive no more than (10-30) credit based emails a day! Unlike other list builders and Ad Exchanges where you can sometimes get 20-100 emails a day!



11. Additional Points
You will receive additional points every time a referral of yours logs in to MightyAdz. It's our way of rewarding you for sponsoring other new members! So remember that every time a sponsored member logs in, you get points added to your account to use!

12. Earn From Every Advertising Purchase
You earn a percentage from every dollar your referral spends at MightyAdz!

13. SUPER JV Members Gets Solo Ads Free Daily!
Upgrade to Super JV and every time you send a solo ad another solo ad is added to your account forever as long as you remain a SUPER JV Member!